The future of sports streaming is here!
The reliance of traditional media on live sports is being disrupted. Since live sports returned to our screens, evidence suggests that sports lovers have used the opportunity to find new ways to watch.
According to our data, 39% of live sports viewers now watch their teams via ad-supported Connected TV and streaming platforms, such as Hulu, Sling TV, Fubo.tv, YouTube, and similar services. This represents exponential growth of over 200% year-over-year!


Sports streaming goes mainstream
Streaming channels are poised to disrupt the way live sports business has been done. For instance, Amazon Prime Video, ESPN+, NBCUniversal's Peacock and DAZN, are all reported to be interested in bidding for the NFL's Sunday Ticket when it goes up for auction after the 2021 season. This may be the end of cable TV!
Meanwhile, NBCU's ad-supported Peacock picked up top-flight matches from the English Premier League, with additional subscription fees. This year, the streaming service will reach a large audience with coverage of the Tokyo Olympics, including the opening and closing ceremonies.
How Streann Media is redefining sports streaming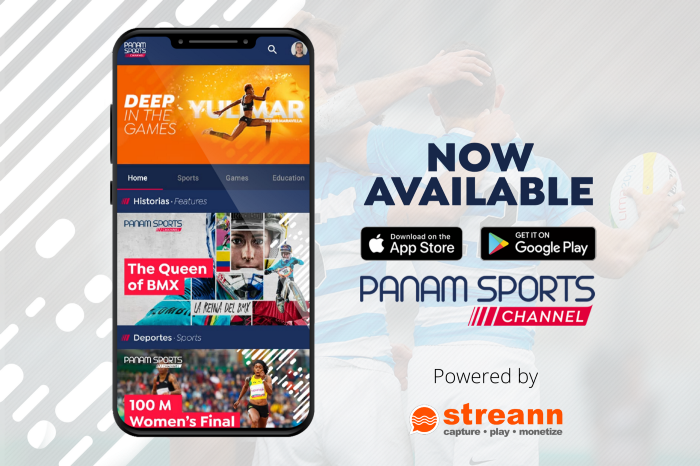 Streann Media has pioneered in the sports streaming world. In 2014, we built several OTT platforms for different clients around the FIFA World Cup. Streann also created a platform for Copa America, but we got more creative than just streaming this time; we launched an interactive trivia game and polls that fans loved.
Panam Sports and Streann Media are proud to present the innovative transformation of the Panam Sports Channel, that will bring fans throughout the Americas closer to sport than ever before.
The digital makeover not only includes a brand-new and user-friendly web experience highlighting Pan American Sport, but also the historic launch of the first Panam Sports Channel mobile application, now available to download for free on the Apple and Google Play Stores.
Thanks to the 150+ features of Streann, Panam Sports will add behind-the-scenes experiences, athlete interviews and coaching seminars to watch on-demand. The online platform and mobile app will offer exciting live events such as the Tokyo Olympic Qualifiers, Pan American Championships and the Cali 2021 Junior Pan American Games.
With the innovative solutions provided by Streann Media, and Panam Sports' pledge to keep athletes at the heart of every decision, Pan American Sports has a new digital home.
Streann Media is the world's most innovative and interactive OTT streaming platform. With Streann, content providers can create the next Netflix or Spotify, with more than 150 proprietary features for market-first delivery, engagement and monetization technologies. Established in 2014 in Miami, Florida, the company has won multiple industry awards for its easy-to-use, all-in-one solution and has been deployed in 141 countries. For more information, visit www.streann.com.