Rethink sports content and cash in!
2021 is a game-changing year for sports broadcasting, as the industry embraces OTT for increased revenue and viewership. Live sports consumption and delivery continue to shift dramatically to digital platforms like Smart TVs and mobile, bringing an exciting opportunity for greater engagement and monetization.
Why? The answer is data: compared to traditional broadcasting, streaming gives you access to a wealth of data and metrics that you can monetize.
In this interview conducted by SVG, our CEO Gio Punzo discusses how Steann's experience providing streaming services for mega-events like the FIFA World Cup and the Copa America have shaped our streaming features for sports.
SVG: Streann, as a relatively young company, has been involved in some really big, high-profile events over the past handful of years. Tell me more about them.
Gio: We come from the live streaming world. I was at LiveU for many years, so live streaming is the heart and soul of our company. When I was at LiveU, I actually organized the soccer World Cup and other big sports events, so we knew exactly what we were facing, and since then, we have built several OTT platforms for different clients to monetize the World Cup and Copa America.
SVG: I mean, we're talking about the FIFA World Cup, we're talking about Copa America, big soccer events, big international events. Tell us a little bit about getting involved in those big mega-events like that. What have you learned?
Gio: There's always this huge expectation of perfection: the network needs to work very, very well; the video quality of the experience needs to be premium, and you have to pass all the strict requirements from FIFA. You have to answer all these different questionnaires about the safety of your video, the quality of your video, several layers of testing, etc. Once everything is approved, you are live. And it's not only on iOS or Androidm but also Apple TV, Fire TV, Smart TV.
At one point, we had several different countries going live at the same time, which was insane! People ask us, can your company handle all the traffic? I'll give you another fun fact about one of these deployments: in one of the countries, they only had the rights on Wi-Fi so, they had a mobile operator that had the rights on 3G, so our technology was able to switch and detect if you were on 3G. If you wanted to watch this content, then you had to be on Wi-Fi. That was a pretty awesome OTT platform that the team built.
SVG: What are some of the products that you guys are offering that are really, really top of mind at your company right now?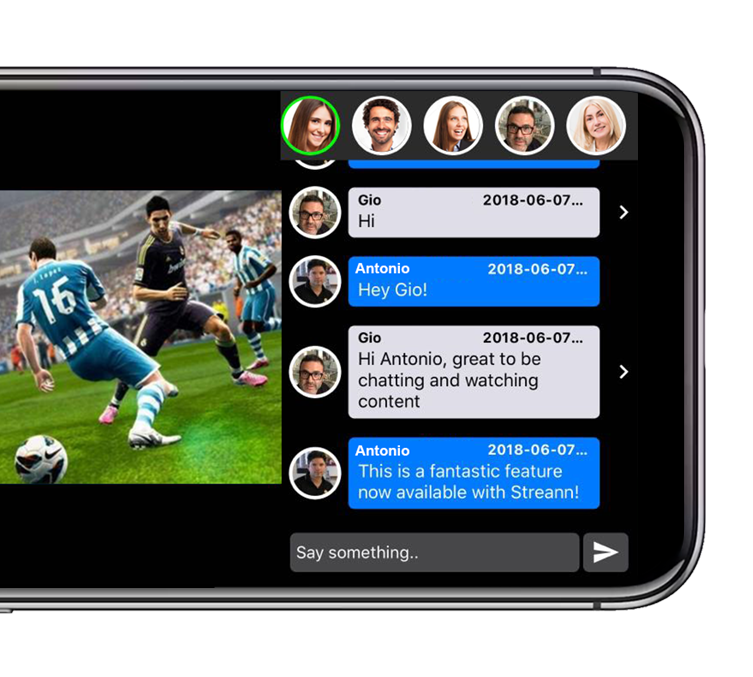 Gio: There are different OTT players, but we're the only ones that have 150 ways for you to distribute, engage, monetize and distribute. It's not just about getting your content out there on social media. It also has to be on all these different streaming platforms.
You have to be able to support "resume watching," you have to be able to do polls, you have to be able to have a chat feature. So, we have built a lot of engagement features especially for the sports user; that's why we've signed with sports teams and ESports organizations as well -this is a fantastic sector and it's growing with us.



We always say that we are the most innovative and interactive OTT platform in the world because of all these different features that we have. One that I absolutely love is "inside stories." Say you're on your content platform, you're watching but now, what if I want to send a message back to a player or a team or want to show what I'm doing after they score? If the team scores a goal, I can actually take a video and share it on the platform. It's all user-generated content. That video goes back into the platform for the content provider to approve or reject. If they approve it, they can share it on social media. They can even reward me today with a PayPal payment and then in a few months with crypto as well, so how amazing is that?


SVG: Really cool stuff! Before we let you go, we definitely want to get some updates on some of the other clients. Who are some of the new customers that are really finding some wins right now with you guys?
Gio: One exciting new project is the Pan American Sports Channel, which is part of the Olympic committee so, all the pan-American games are going to be on Streann technology, which is super exciting! They're going to be on the web, iOS, Android, Roku, Apple TV, Fire TV, live games, and VOD. We're very, very excited to play at a major event such as the Pan-American games.
SVG: Very exciting! Thanks for your time, Gio.
Gio: Great talking to you! Thank you, awesome.